DOWNLOADS
Finest Kind of Sea Songs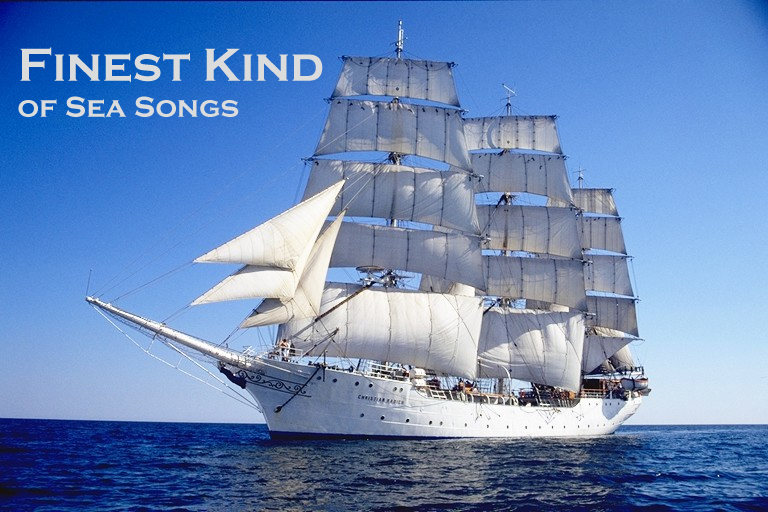 A selection of 12 Sea Songs from Finest Kind's CDs, available as a .zip download (mp3)
Fair Maid Walking
Bay of Biscay
Jack The Jolly Tar
The Mermaid
The Lass That Loved a Sailor
Squid Jiggin' Ground
Thomas and Nancy
Claudy Banks
Lowlands Low
A Sailor's Life
No More Fish, No Fisherman
Bully in the Alley
All songs previously released on CD.
Buy this on Selz
Sell digital downloads on Selz

Finest Kind of English Songs
A selection of great old English songs from Finest Kind's first 5 CDs and Ian Robb's "From Different Angels", all sung in the trio's glorious trademark three part harmony.
Available as a .zip download (mp3)

The Banks Of Sweet Primroses
Shepherds Arise
Ye Mariners All
Sussex Drinking Song
John Barleycorn
By the Green Grove
Song of the Lower Classes
Shepherd Of The Downs
April Morning
Brigg Fair
Farmer's Boy
Bright Shining Morning

All songs previously released on CD.
Buy this on Selz
Sell digital downloads on Selz
The Old Sod Band: Grass Roots
FAM04 (2001)
Now only available as a CD quality download
with album notes and graphics

'Grass Roots' is the first release by 'The Old Sod Band', the long time house band at Ottawa Contra Dances. This recording covers a range of musical roots from Quebec to Ireland, the U.S. and Scotland. Although primarily traditional, the recording features some favorite original jigs, reels and waltzes from around the globe. Fiddler Dan Schryer and concertina player Ian Robb are joined by Ann Downey (bass, banjo, percussion), Ian Clark (guitar), Philip Murphy (guitar, mandolin) and Tim Cutts (mandolin, mandola, tenor banjo, nyckelharpa). A note for dancers- some sets are long enough to be used at your bandless dances! Guest appearances include Denis Lanctot, Don Kavanagh, Raj Mudhar and James Stephens. Produced by James Stephens.
Julia Delaney/Tam Lin/The Banshee
Miss Sarah McFadyen/Princess Nancy/Hills of Sharon
Far Away/Old Madera
Vingt Quatre Juin/Reel de Fauberg/Pointe au Pic
Margaret Brown's Favourite/Ben Keily's Delight/Pay the Reckoning
Johsefins Dopvals
Trip to Durrow/Paddy Ryan's Dream/Sheila Coyles
Sonny Brogan's/Brian O'Lynn/Blue Jay
Over Land and Sea/Reel Beatrice
Buy this on Selz Sell digital downloads on Selz
Finest Kind: Lost in a Song
FAM02: (1996)
Finest Kind's debut 1996 release from Ian Robb, Shelley Posen and Ann Downey. Lost in a Song is a collection of old and new songs from Britain, Canada and the US, all delivered with Finest Kind's trademark hair-raising vocal harmonies. The songs are about half-and-half capella and accompanied, and the latter feature some very tasteful fiddle and mandolin back-up from producer James Stephens, in addition to the trio's own guitar, bass, banjo and concertina.
Available as a .zip download (mp3)
The Banks of Sweet Primroses
Give me Just a Little More Time
The Miner's Dream of Home
Blue Mountain
The Sussex Drinking Song
The Night Pat Murphy Died
The Storms May Roll the Ocean
Goodnight-Loving Trail
Only Remembered
Fa-Sol-La
Going to the West
A Handful of Maple Leaves
Gower Wassail
What Was I Supposed to Do
I Heard the Bluebird Sing
The Faded Roses of December
A Pilgrim's Way
Buy this on Selz
Sell digital downloads on Selz
Finest Kind: Heart's Delight
FAM03: (1999)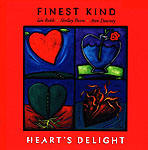 Following in the footsteps of Lost in Song, Finest Kind's second release demonstrates once again why they are considered among the most exciting exponents of vocal harmony on the scene. Like the first recording, this one is crammed with a rich and varied mixture of mostly old songs from Canada, England and the U.S., plus a few more recently penned gems including a couple written by band members Shelley Posen and Ian Robb. Includes guest appearances by Ian Clark, Ken Harper and James Stephens.
Available as a .zip download (mp3)

Produced by James Stephens.
A Sailor's Life
Fond Affection
The Fugitive's Lament
Jordan
Jack Ashton
If You Can't Get Five, Take Two
Brigg Fair
Someday You'll Call My Name
April Morning
In Praise of Alcohol
Down at the End of Memory's Lane
Homeless Wassail
The Mermaid
Squid Jiggin' Ground
Home in Pasadena
No More Fish, No Fishermen
Who Will Sing for Me
Buy this on Selz
Sell digital downloads on Selz
Finest Kind: Silks & Spices
FAM05: (2003)
In the trio's own words: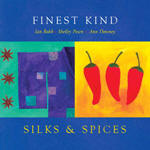 Finest Kind's repertoire has so many sources, our musical closet so many skeletons, and our performances so many opposing elements, there's no neat summing us up. "Folk music" serves as a point of departure, but in our case obscures as much as it explains.
The best we've come up with is a slogan, "Old Songs in Close Harmony." But it too only partially covers the ground. Take the word "old:" on Silks & Spices there's blackletter-broadside old, Napoleonic-days-of-sail old, Victorian Christmas and golden-age-of-country-music old, Ottawa-Valley-logging and early-American-sheet-music old, antiwar-protest, civil-rights, and bellbottom-pants old—plus one song with a tune as old as Canada but words written 136 years later.
As for "close harmony," well, we're often told that Finest Kind sounds like no one else, but in our arrangements we hear the harmonic strains of the Copper Family and Young Tradition, barbershop quartet and Sacred Harp, doo wop and country brother duos, and many more. How can we bundle that up in a nice neat phrase?
So we decided Silks & Spices was an apt title for this album. Finest Kind is not one thing or another, but some of each and every. Once you hear us, you understand what we do.

Produced by James Stephens, who also adds his instrumental magic to the CD.
Available as a .zip download (mp3)
Bright Shining Morning
Fair Maid Walking
At the End of a Long Lonely Day
The Ten Dollar Bill
The Maple Leaf Forever
As I Roved Out
Jack the Jolly Tar
Shepherd of the Downs
John Barleycorn
Sweet Forget-Me-Not
Shepherds Arise
Blackest Crow
The Painful Plough
The Times They Are a-Changin'
Will You Still Love Me Tomorrow?

Buy this on Selz
Sell digital downloads on Selz
Finest Kind: For Honour & for Gain
FAM09: (2010)
On Finest Kind's fifth album, Ian, Ann, and Shelley show what nearly two decades of singing together sounds like: brilliant harmonies, innovative arrangements, and immaculate performances that range over a vast expanse of repertoire--old ballads and country classics, fun parodies, songs of protest and heartbreak, and a cool, new Christmas carol. For Honour & For Gain is half a cappella, half accompanied, with instrumental honours courtesy of the trio, plus Michael Ball, Jody Benjamin, Jeff McClintock, Brian Sanderson, and James Stephens.

Produced by James Stephens.
Available as a .zip download (mp3)
Bay of Biscay
She Thinks I Still Care
Claudy Banks
Short Life of Trouble
Thomas & Nancy
Bully in the Alley
He Comes Like Rain(Like Wind He Goes)
Song of the Lower Classes
Lowlands Low
John Barleycorn Deconstructed
Why Should I be Lonely?
Tenting on the Old Camp Ground
Christmas Trilogy
The Lass That Loved a Sailor
From Dover to Calais
The Riley Boys
Farm! Farm!
By the Green Grove
Buy this on Selz
Sell digital downloads on Selz