FROM SHORE TO SHORE:

Notes and lyrics
All vocals by Finest Kind (Ann Downey, Ian Robb, Shelley Posen)
with James Stephens, Brian Sanderson and Rob Graves
1. Fare Thee Well, Dearest Nancy
Lead vocal: Ian
Learned from a recording by England's venerable Old Swan Band, this ballad has many close relatives in England, Ireland, North America and Australia. An almost identical set of words, with a different tune and one extra verse is in Colm O'Lochlainn's More Irish Street Ballads, and another, collected in 1906 by Dr. George Gardiner from Mr George Lovett of Winchester, Hampshire, is in Roy Palmer's Oxford Book of Sea Songs, again with a different tune. Irish singer Mick Hanly recorded a lovely arrangement of the song in 1976, to the melody used here. We're not sure where the gorgeous tune came from, but our money is on the Irish.
Fare thee well dearest Nancy 'tis now I must leave you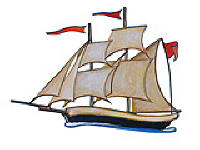 To the burning West Indies my course for to steer
I know very well that this parting will grieve you
But love, I'll return in the spring of the year

Oh don't talk of leaving, my own dearest jewel
Oh, don't talk of leaving me here on the shore
For it is your sweet company that I do desire, love
I will sigh till I die, if I ne'er see you more

In sailor's apparel I'll dress and go with you
In the midst of all danger I will be your friend
And when that the cold stormy winds are a-blowing
My love, I'll be with you to wait on you then
Your lily-white hands they can't handle a cable
Your neat little feet to the topmast can't go
Your delicate form the cruel gales can't endure, dear
Therefore dearest Nancy, to the ocean don't go

As she stood a-wailing, the ship set a-sailing
And the tears down her fair cheeks in torrents did flow
Her lily-white hands she in sorrow was wringing
Crying, Oh ! my dear jewel, will I ne'er see you more

Come all you young maidens, by me take a warning
Ne'er trust a sailor but heed what I say
For first he will court you, then love you and leave you
For ever lamenting in sorrow and pain
2. The Well Dressing Song (Sarah Matthews)
Lead vocal and concertina: Ian
Fiddle: James
Nothing to do with sartorial elegance, this song, written by Derbyshire-based singer, fiddler and songwriter Sarah Matthews, is about that county's great tradition of decorating and celebrating sources of water.
Large wooden pallets are plastered with wet clay, and petals, berries and other colourful natural materials are pressed into the clay to produce beautiful images, often finely detailed, sometimes realistic, sometimes abstract, often religious in content. The finished picture is then placed on or by the spring, pump, fountain, tap or whatever source is being celebrated, and in most cases there is an accompanying procession, ceremony or blessing.
The custom is ancient and probably pagan in origin, but the oldest documented tradition is in the village of Tissington, which survived the Black Death unscathed in the 14th century when nearby villages fell to the plague. The villagers credited the purity of their water supply, and a Christian thanksgiving tradition of well dressing emerged, now held each year on the eve of Ascension Day. Many other Derbyshire communities, and a number of towns and villages in other counties have similar customs, and the well dressing calendar now extends right through the summer.
Sarah and some of her young students were creating a well dressing when it occurred to her to write a song about the experience.
Give thanks and give praise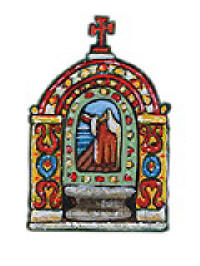 Now that the water it doth flow
It brings us good health and life
And helps us all to grow, so

Dress the well with colours gay
Beat the drum and sing hooray
Praise be we can see the water flow today

On palettes of clay
Seasons' colours dress the well
We crafted the scenes of village life
Our tale to tell, so...
It was long, long ago
When it started, who can say?
But each year you'll find us here
It's our well dressing day, so...
3. Jimmy Whelan
Lead vocal: Shelley
In the 19th century North American lumber woods, the winter's cutting ended with the spring drive. It was cold, wet, miserable work. Think "cattle drive," but instead of cowboys on horses urging cattle over the plains towards a train station corral, the log drive was lumbermen up to their waists (or higher) in freezing cold water, using long, iron tipped poles to push the logs down ice-choked streams and rivers towards a saw mill. Yes, sometimes the men could ride the logs like so many surfboards, as one imagines when listening to Wade Hemsworth's charming "Log Driver's Waltz." But more often, the only reason to clamber up on the logs was when a rogue log sank butt down into the river bed and stuck, catching the log surging behind it, then five more, then dozens more, then maybe hundreds more, till the logs piled up into, well, a log jam. The drivers' unhappy job was to break the jam by dislodging the "key log." It took nimble men with good balance and a lot of luck: the pressure behind the key log in a fast flowing freshet was immense. A wrong or mistimed step meant certain death in a log tsunami. Logging ballads tell how this happened, over and over, with a few names—Johnny Stile, Foreman Young Monroe, Jimmy Whelan—standing in for dozens, maybe hundreds of unknown others.
Widely collected, "Jimmy Whelan" is treated in logging song literature as a mystery story: who the unfortunate hero was (likely an Ottawa Valley man named James Phelan); where and when he died (on Ontario's Mississippi River in the 1870s); and whether the ballad is related to another entitled "Lost Jimmy Whelan"—in which a "damsel" summons her drowned (logger?) lover's ghost at a riverside grave. Ballad indexer G. Malcolm Laws, Jr. assigns "Jimmy Whelan" the number C7; "Lost Jimmy Whelan," C8. For an interesting discussion, visit http://mudcat.org/thread.cfm?threadid=103995#2124485
Shelley bases his version on the one sung by Emerson Woodcock for folklorist Edith Fowke, published in her Penguin Book of Canadian Folksongs.
Come all you ladies and you gentlemen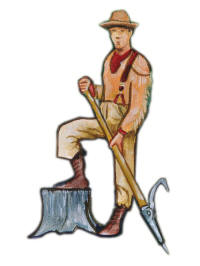 I pray you lend an ear
'Tis of a terrible accident
You are about to hear.

'Tis of a young and active youth
Jimmy Whelan he was called
He was drownded on McClellan's drive
All on the Upper Falls.

The fierce and the raging main,
The waters they ran high
And the foreman said to Whelan
"This jam you will have to try."

"You've always been an active youth
While danger's lurking near
So you're the man I want to help
To keep these waters clear."

Whelan he made answer
Unto his comrades bold
"Supposing if there's danger
We will do as we are told."

"We'll obey our foreman's orders
As noble men should do"
Just as he spoke the jam it broke
And let poor Whelan through.

The raging main it tossed and tore
Those logs from shore to shore
And here and there his body went
A-tumbling o'er and o'er.

No earthly man could ever live
In such a raging main
Poor Whelan struggled hard for life
But he struggled all in vain.

There were three of them in danger
But two of them were saved
It was noble-hearted Whelan
That met with a watery grave.

So come all you young and active youths
A warning from me take
And try and shun all danger
Before it gets too late.

For death is drawing nearer
And trying to destroy
The pride of some poor mother's heart
And his father's only joy.

4. The Birds Were Singing of You
(A.P Carter)
Lead vocal and banjo: Ann
Fiddle: James


In November of 1930, The Carter Family recorded A.P. Carter's original song, The Birds Were Singing of You. This simple love song captures the scene of the poignant absence of a loved one, when everything reminds the singer of his love. We're left wondering whether that love was unrequited, lost or even dead. There maybe a bit of foreshadowing written into this song, as A.P. and Sara separated a few years later.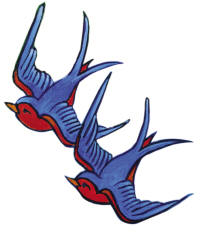 Last night the pale moon was shining
Last night when all was still
I wandered alone in sadness
Out among the woodland hills.

I heard the birds a-singing
Out among the trees and views
And all the birds, my darling
Were singing, were singing of you.

Were singing, singing of you, my love
Were singing, were singing of you
And all the birds, my darling
Were singing, were singing of you.

I think of you in the daytime
I dream of you at night
I wake and wish you were here, love,
And tears are blinding my sight.
The flowers that slumber so sweetly
The stars above the blue
Oh heaven itself, my darling
Is thinking, is thinking of you.

Is thinking, is thinking of you, my love
Is thinking, is thinking of you
Oh heaven itself, my darling
Is thinking, is thinking of you.

I opened my window so gently
Looked out on the dreaming view
And all the world, my darling
Was sighing, was sighing for you.

Was sighing, was sighing for you, my love
Was sighing, was sighing for you
And all the world, my darling
Was sighing, was sighing for you
5. Woman's the Joy and the Pride of the Land
(melody Ian Robb, new words Shelley Posen)

Lead vocal: Ian
This fulsome paean to women and the joys of marriage was collected by Elisabeth (Bristol) Greenleaf during her epic collecting trip in Newfoundland in 1929. Greenleaf was a Vassar graduate who spent two summers teaching in Newfoundland in the early 1920s. She fell in love with its people and its folklore, particularly its song. She returned at the end of the decade with another Vassar graduate, musicologist Grace (Yarrow) Mansfield. The two women took a steamer from St. John's around the island from east to west, stopping in at "outport" fishing settlements, finding the good singers, and recording their songs (for 'recording' read: as the singer sang, Greenleaf wrote down the lyrics, Mansfield, the notes).
Their book, Ballads and Sea Songs of Newfoundland, was published by Harvard University Press in 1933. It is one of Shelley's favourite folksong collections, not only for the quality and variety of the songs, but for the wonderful vignettes of outport life contained in Greenleaf's introduction and song headnotes. They reflect a lively, intelligent listener and a warm, appreciative observer—Greenleaf was a sparkler. (For more on Greenleaf and her experience in Newfoundland, see Shelley's chapter on early Canadian song collectors in Scott B. Spencer's The Ballad Collectors of North American: How Gathering Folksongs Transformed Academic Thought and American Identity. Lanham: Scarecrow Press, 2012.)
"Woman's the Joy and the Pride of the Land" was taken down from the singing of Thomas Endacott, Sally's Cove. Its entry in the book is unusual for having no commentary and no melody. What Greenleaf might have said is that the song originated as a 19th century English broadside (an image can be seen at http://digital.nls.uk/english-ballads/pageturner.cfm?id=74892505). As for melody, Ian has created ours. Shelley pieced together our lyrics from both the broadside and what Thomas Endacott sang to Greenleaf, and added a few phrases of his own.
Come, married and single, together pray mingle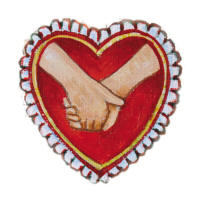 And listen a-while to these lines I relate
You single who tarried, make haste and get married
Before you have loitered until it's too late.
No pleasure is found in a lifetime of roving
Young man, take a partner and join hand in hand
Believe me there's nothing can equal a woman
For woman's the joy and the pride of the land.

When a man gets his wages, temptation engages
His time for to squander, to ramble and roam
Like a ship in full motion that's tossed on the ocean
No comfort abroad and no pleasure at home.
No one to condole him, no wife to console him
To nurse him in sickness and at his side stand
No man can live happy unless with a woman
For woman's the joy and the pride of the land.

There's many a man will speak ill of a woman
And call her vile names when she's not in the wrong
Backbite her and slander and loud reprimand her
And say that her tongue is too sharp or too long.
But watch when that man from his wife he is parted
So quick does he fall and so low does he stand
That man is an ass that would frown on a woman
For woman's the joy and the pride of the land.

So now to conclude and to finish my story
You men that would happily travel through life
You that single do tarry, why, speedily marry
And you that be married be true to your wife.
Then like birds of a feather united together
Till death do you part will you walk hand in hand
Here's a health to all women, the glory of nature
For woman's the joy and the pride of the land.
6. Following the Old 'Oss (Tony Deane)
Lead vocal and concertina: Ian
Fiddle: James
Bass: Ann
Trumpet, horns: Brian
Percussion: Rob
A grand song by the late English singer, songwriter and folklorist Tony Deane, describing some of the goings on in Padstow, Cornwall, during the annual May Day festivities. Two rival "'obby 'osses" dance down the streets, each with their own musicians and followers: the "old" or red 'oss, and the blue ribbon 'oss, the latter supposedly introduced by the temperance movement in the 19th century, and later known as the "peace" or "armistice" 'oss after the First World War. The temperance connotations were long ago abandoned by the blue ribbon followers, but the rivalry remains a part of the fun, and there's little doubt with which 'oss the sympathies of this song lie. In verse two,"Merv and Charlie" refers to two local characters and singers, Mervyn Vincent and Charlie Bate.
Ian learned the song after hearing it from our good friends Sarah Matthews and Doug Eunson at a festival in Ontario. It can also be heard from the 'oss's mouth, so to speak, on the album Cutaway Mike by Tony Deane's own Elsie's Band. Other fine versions are on Lusignac by Chris Wood and Andy Cutting and on Bare Bones by Tony Rose.
Here's adieu to Winter's wailing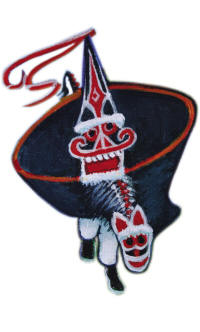 From now on it's plain sailing
Summer is a coming today
As we welcome the first of May

Following the old 'oss through the town
Following the old 'oss Padstow round
All on a bright May morning
All on the first of May

And we'll rise in the morning early
And remember Merv and Charlie
By the Golden Lion we'll stand and greet
The old 'oss onto the street
And there'll be no cries nor cribbin'
And we'll not wear blue ribbons
It's the old red 'oss and a crate of beer
That brings us our good cheer

And we'll sing from morn 'til night time
For our song it's the right time
Only in Padstow will you hear
The day song loud and clear

So good friends don't ignore us
Join in the May day chorus
Dance with the old 'oss, it's no sin
To sing the Summer in